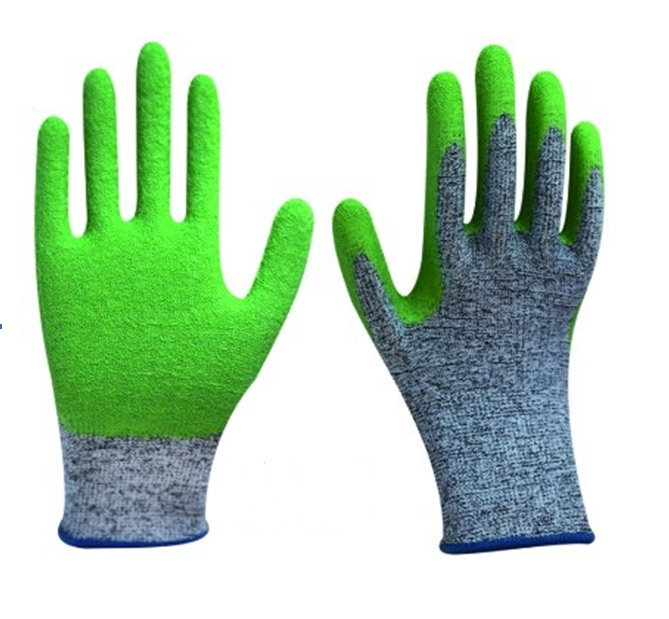 PERFORMANCE
The cut resistant fiber has a tensile strength 15 times that of steel(on a weight for weight basis).
It can be washed and reused without any loss in protection.This greatly increases the life cycle of gloves and lowers employers' costs dramatically.
It is extremely resistant to abrasion,moisture,UV rays and chemicals.
Cut resistant fiber is very soft and it adapts to the temperature of the skin.This minimizes perspiration by transporting moisture to the exterior of the glove.
Furthermore,this fiber can be coated with different polymers to further increase the
physical properties.
APPLICATION
Handling Applications
Glass Handling
Metal Fabrication
Sheet Steel Manufacture
Security Forces
| | | | | | | | |
| --- | --- | --- | --- | --- | --- | --- | --- |
| STYLE | CONSTRUCTION | LINER | COATING | COLOR | LENGTH | EN SIZE | С∈ EN388:2016 |
| H101 | Palm coated | Cut-3 or 5 liner | PU | Grey coating on Grey liner | 230-270 | S-XXL | 4X42B or 4X42C |
| H102 | Palm coated | Cut-3/5 liner | Natural latex | Green coating on grey liner | 230-270 | S-XXL | 4X42B or 4X42C |
| H103 | Palm coated | Cut-3/5 liner | Foam Nitrile | Black coating on grey liner | 230-270 | S-XXL | 4X42B or 4X42C |
| H104 | Palm coated | Cut-3/5 liner | Sandy Nitrile | Black coating on grey liner | 230-270 | S-XXL | 4X42B or 4X42C |
| H105 | Palm coated | Cut-3 or 5 liner | PU | Grey coating on Grey liner | 230-270 | S-XXL | 4X42E or 4X42F |